Several decades ago I was visiting a friend in Tennessee.
While I was there I brought myself a daysac. It was black and made by North Face. Simple in design, it had a zipped main compartment and a zipped front pocket. The shoulder straps were nicely curved for a more ergonomic fit and the back section was well padded. There was a small snap-link inside the pocket that proved to be a handy place to attach a pouch with a mini-maglight. Another permanent occupant of the daysac was my all-weather blanket, purchased at the Kennedy Space centre on a previous holiday.
I used that daysac extensively at home and abroad for more than 20 years and on three continents (possibly four, I don't recall if I had it in Brazil).
This faithful travelling companion was to have an

ignominious

end.
My girlfriend borrowed the pack to camp out at the Leeds festival. A bunch of lads were allowed to run riot and set fire to a number of tents, including my girlfriend's. When she complained they threatened to throw her in the fire!
The worst part about this incident was that the local police force sat by and let this happen. When my lady complained, a police officer told her "Everyone knows it gets a bit wild on the last night" and "You are from Brazil, worse things happen there". A sterling piece of public service! I don't know how those officers can look at themselves in the mirror.
My much loved daysac was to perish in that fire, along with some money that my girlfriend had worked very hard to save.
I needed to find a new daysac, and money was now in shorter supply than my single days. Looking online I found a pack that looked promising, similar to the one shown below. This had heavy duty zips, PALS straps and numerous compartments including one ideal for my Platypus water bottle.
I spent a weekend or so gathering a few small items to add to the pack, such as a small medical kit, a hand-powered torch, a keffiyeh and some emergency gloves.
As fate would have it, for the next couple of years I had no need to use this daysac.
Fast forwarding. we come to this year and a combination of situations mean that it is necessary for my girlfriend's son to leave the country for a week. On short notice, we book a week in Kos.
My girlfriend makes all the arrangements and books us on a flight where we can only take hand luggage. This proves to be an interesting challenge when it comes to packing and it becomes apparent that my new daysac is far too small! It looks about the same size as the old pack but too much of its interior space is taken up by padded dividers and such.
My pack is made by "Mil-Tec", and I later discovered they offer the same design in two different capacities. I think mine is the 20 litre size rather than the 36. The 36 litre version may be worth a look.
I suspect that many of the similar looking packs that claim to be 30 litres are not, judging by the given external dimensions. Caveat emptor! 
My flatmate comes to the rescue with a canvas bag he had purchased at the local army surplus shop. This had three external pockets, a drawcord top and a flap that buckles down with vintage style ladder buckles. He thinks this bag is an ALICE pack  or a copy and it certainly looks similar. This bag takes enough clothing for a week, my washkit, medical kit, notebook and most of the other things I will want. The weather on Kos played to our favour here since there was no need to pack jackets or jumpers.
My friend's bag gave good service over the following week but the experience did get me thinking. When it comes to packs, is less sometimes more? In a previous blog I mentioned the Russian Veshmeshok, possibly one of the simplest packs to ever see widespread service. My friend's bag reminded me of the very simple packs that Horace Kephart advocates in his classic book, such as the Whelen, Nessmuk and Duluth (pg.129). I've seen a few Austrian rucksacs of similar design on my travels. Rather than having an internal frame and padding the packsacs of Kephart's day were padded with a folded sleeping blanket against the back. A sleeping bag might be used in the same manner and this might prove a more space efficient method of carry than bundling it up in a stuff-sack.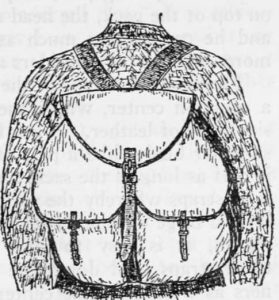 All this has given me food for thought and I will share any ideas that arise from my experimentation along these lines. First order of business will be to scrape together some money to buy a pack like my friend's.