In my novella, "Anatopismo", one of the characters expresses surprise that a community has electricity. The other character is surprised by this reaction and responds "Why not? It is just wire and magnets."
I was reminded of this passage since I have started reading "How To Invent Everything: A Survival Guide For The Stranded Time Traveler" by Ryan North (2018, Riverhead Books) ISBN 978-0735220140. A common theme that occurs in this book is that many of humanity's inventions and discoveries could have been made centuries or even millennia before they were. Sometimes an idea was adopted in one field, but it was a considerable time until it was applied in others. For example, wine was being pasteurized centuries before it was applied to other foodstuffs, such as milk.
How To Invent Everything will probably prove interesting to many readers of this blog, but particularly those interested in long term scenarios. It is packed full of diverse, useful information in an easily readable style. There are a few points of contention. The beer recipes given are rather vague. The comments made about the cloudiness Egyptian-style beer are probably out of date. Staphylococcus are not necessarily harmless. The author also describes yeast as "animals", which is a pretty basic, avoidable mistake, and makes me wonder about other inaccuracies. You should probably double check any facts from the book before you get into any arguments, but that is a sound policy anyway.

On the topic of verifying information, the book is worth reading just for the comments on the scientific method: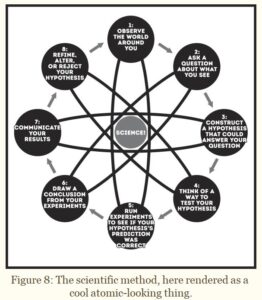 "This is the more accurate theory of combustion that we still operate under today, but we could still be wrong.
Or, more likely, we could still be more correct.
Here's how you produce knowledge using the scientific method.

An example: maybe you notice (as per step 1) that your corn didn't grow well this year. For (2), you might ask, "Hey, what the heck, everyone, how come my corn didn't grow well this year?" You might suspect the drought affected the corn's growth (3), and so (4) decide to grow corn under controlled conditions, giving each plant different amounts of water but equal amounts of everything else you can think of (sunlight, fertilizer, etc.). After carefully doing that (5), you might conclude (6) that a precise amount of water grows the best corn plants, and (7) let your farmers know. And when your corn still doesn't grow as well as you want, you might explore (8) and wonder if there's more to growing great corn than just making sure your corn isn't thirsty.*

The more ways a hypothesis has been tested, the more likely it is to be correct, but nothing is certain. The best case you can hope for by using the scientific method is a theory that happens to fit the facts as you understand them so far: science gives you an explanation, but you can never say with absolute certainty that it's the correct one. That's why scientists talk about the theory of gravity (even though gravity itself clearly exists and can cause you to fall down the stairs), theories of climate change (even though it's obvious our environment is not the same one our parents enjoyed, or that you're enjoying right now), or the theory of time travel (even though it's a fact that you're clearly trapped in the past for reasons that cannot have any legal liability assigned).

Note that the scientific method requires you to keep an open mind and be willing—at any time—to discard a theory that no longer fits the facts. This is not an easy thing to do, and many scientists have failed at it. Einstein* himself hated how his own theory of relativity argued against his preferred idea of a fixed and stable universe, and for years tried in vain to find some solution that reconciled them both. But if you succeed at following the scientific method, you will be rewarded, because you will have produced knowledge that is reproducible: that anyone can check by doing the same experiment themselves.

Scientists are often seen as turbonerds, but the philosophical foundations of science are actually those of pure punk-rock anarchy: never respect authority, never take anyone's word on anything, and test all the things you think you know to confirm or deny them for yourself."