When choosing a handgun it is easy to be swamped in opinion. If you wish to be logical about your choice, there are several strategies that you can adopt.
Choice of Model
Hollywood, video games and even some writers often tell us one model of pistol has a superior performance to another, despite that in real life the two may use the same ammunition! The chambering of your handgun is probably the first aspect that you should consider. Once this decision is made, you can select a model based on size, mass, capacity, budget and other factors.

Ideally, you want an automatic pistol of about 7"/ 180mm overall length. As a primary weapon for concealed carry, you want a weapon of small bulk. As a secondary weapon for overt carry, a weapon of low weight is desirable, since you probably have a rifle or shotgun and enough other things to carry. Hence the recommended handgun is of compact/ sub-compact size.
Performance
If you are shooting someone in defence of your life, you want to make a big, deep hole in them. Yup, size does matter!
The optimal pistol round for this is the .45 ACP. The .45 ACP is compatible with a semi-automatic action, allowing for easy and fast reloading. There was a time when it was hard to find a .45 that was not a large, single-action weapon with a single-figure magazine capacity. Now we have a variety of compact and sub-compact double-action weapons, with useful magazine capacities. Thanks to US military aid, .45 ACP ammunition is reasonably easy to find in many parts of the world.

The standard load of the .45 is subsonic, making it a good choice for general military applications that may include the requirement for weapons to be suppressed. A .45 round that fails to mushroom will often make a wider wound channel than many 9mm and other medium-calibre rounds that do mushroom. .45s that do mushroom make very big wound channels.

The Textbook of Small Arms, 1929 notes:

"Rapidity of fire is an essential in pistol shooting, and though the double action of a revolver may well be ignored when it is considered as a target arm, it is of the highest importance when the pistol is considered from the active service point of view as a weapon…
"The value of the calibre of self-loading pistols and revolvers has been much obscured by theory, but practice of recent years has amply proved that small calibre plus high velocity, although developing many foot-pounds of energy, yet lacks stopping or shocking value. There have been many attempts to substitute a high-velocity cartridge of ·38 calibre, as a Service equivalent to the traditional ·455. In practice it has been found that the small calibre sometimes fails to stop its man and that the large-diameter leaden plug of the ·455, moving even 300 or 400 feet a second slower than the high-velocity, small-calibre projectile, is yet far more effective. Recent experiment has, however, developed a new experimental ·38 cartridge [.38/200 of 200gr]

whose efficiency is, so far as ballistic tests can ascertain, not less than that of the ·455.



A hit with a ·455 anywhere literally [sic] knocks an adversary over. This quality of efficiency depends to some extent on the massive soft-lead bullet and the relatively low velocity rather than on any inherent magic in the calibre, for the ·455 or ·45 self-loading pistol firing a lighter nickel-covered bullet at a higher velocity cannot be depended on to produce equal shock effect.

The efficiency of the ·455 revolver cartridge is due to combination of the large calibre with the soft material, the mass, and the relatively low velocity of the projectile. These combine in such a way that the adversary experiences in his body the maximum development of shocking as distinct from penetrative effect. This is just what is wanted in an active service revolver. "
It is interesting that nearly a hundred years later, this passage remains a good account of the issue, superior to many things written since. I am well aware some readers will get distracted by the semantics of some of the terminology used. Perhaps the most significant change since this was written has been the creation of jacketed hollow-point (JHP) ammunition that will feed reliably through an automatic. This has narrowed the gap in terminal effect between large-bore revolvers and self-loaders. Advances in bullet design intended to improve the performance of light, medium calibre, high-velocity bullets are even better applied to heavy, large-calibre rounds.
Logistics
You may regard logistic considerations over effectiveness. The most common combat pistol round is the 9mm Luger, also known as the 9 x 19mm or 9mm Parabellum. This is the NATO standard pistol round, but its military and civilian use dates back to the 1900s. It was the round of the German, and other armies, for two world wars. The majority of sub-machine guns are chambered for this round. There are very few countries in the world where 9mm Luger cannot be found.

The medium-calibre 9 x 19mm is not as effective as the large bore .45, although many try to convince themselves it is. If you have very small hands, a 9mm model may offer a slimmer grip without compromising magazine size. Guns like the Berretta M9/92 are too big for roles other than as a primary overt weapon. As for 45s, a compact or sub-compact model is preferable.

In nations that have received Soviet or Chinese military aid, the 9mm Makarov round, aka 9 x 18mm, may be more readily found than the 9mm Luger. The 9mm Makarov is designed to be the most potent load that can be accommodated by a light, blowback-action pistol. Velocity and bullet weights are lower than the more powerful 9mm Luger. The 7.62 x 25mm round may also be common in countries that use Soviet or Chinese weapons. Most Soviet sub-machine guns, and their Chinese copies, are chambered in this round. In handguns, it is usually found in the TT33 Tokarev/ Type 51/ Type 54 and a few other Warsaw Pact designs, such as the Czech vz.52. Some of these weapons are still in use in certain parts of the world. The round is effectively identical to the 7.63mm Mauser round, so may be encountered in countries where the C96 Mauser "Broomhandle" was popular. The 7.63mm Mauser/ 7.62 x 25mm/ 7.62 Tokarev is a high-velocity round noted for its high penetration and flat trajectory. The small calibre creates a narrower wound channel than many other combat pistol rounds. W.E. Fairbairn was familiar with the round from his time with the Shanghai police. He suggested that the round was more effectively used if aimed at shoulder level, where the high-velocity round was most likely to shatter bones and create secondary missiles. This is fairly good advice for any pistol round.
Convenience
Automatics
The gun you have with you will always been more effective than the one you left at home because the latter was inconvenient to carry. There are some lightweight, low volume automatics in 9mm Luger. The 9mm Luger round requires a locked breech. Many smaller automatic pistols are simple, blowback weapons and therefore use cartridges other than the 9mm Luger. If you opt for a pocket automatic, the best choice is a weapon in either .380 ACP or 9mm Makarov. Pocket pistols in 9mm Makarov are fairly rare, but many duty weapons, like the Makarov PM/ Type 59, may be compact enough. A wider choice will be found in .380 ACP, also known as 9 x 17mm, 9mm Short or 9mm Kurtz. The .380 is slightly weaker than the 9 x 18m. Like the Makarov round, it is well suited to small, blowback pistols and is a better choice than smaller calibre options such as the 7.65mm/.32 ACP and 6.35mm/.25 ACP. Having less energy and momentum than a 9mm Luger or .45 ACP, hollow-point ammunition in .380 or 9 x18mm may be less reliable.
Revolvers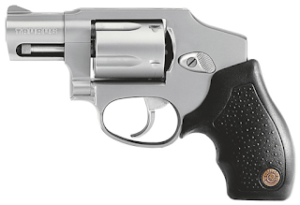 Many small-frame models of revolver such as the Smith & Wesson J-frames and Colt Detective weigh under a pound, but only have five or six shots. Small medium-calibre revolvers in .38 Special, .357 Magnum and 9mm Luger are preferable to smaller-calibre weapons in .32 or .22. The 9mm Luger has the edge over the .38 in velocity, but the merit of revolver rounds is that they can use rounds that would not reliably feed through an automatic. The .38 and .357 cases can be loaded with wide-mouthed, soft, malleable, hollow-points, ideally of 200gr or more, that are likely to be more effective than any medium-calibre round an automatic can fire. If fired in an emergency from within a pocket, a pocket revolver has no slide to catch in the pocket lining. For similar reasons, models with concealed or internal hammers are preferable.
Special Purpose
.25 ACP, .32 ACP, .380 ACP, 9 x 18mm and .45 ACP are all subsonic in standard loadings. The smaller rounds are sometimes preferred since they allow the use of a smaller weapon and suppressor.

Most .22 rounds are subsonic when fired from pistols, so are also suited to suppressed applications. .22 weapons are useful for target practice or for foraging. .22 revolvers often offer the option of switching between .22LR and .22 Magnum by exchanging cylinders. Some .22 revolvers can chamber more than six rounds.
Non-Runners
Other than the exceptions already suggested, revolvers are not recommended. After more than a century of military service it is finally being accepted that claims that revolvers are more reliable than automatics are more theoretical than practical. Possibly, only in the instance of a misfire, does a revolver offer an advantage. This is offset by the greater ease in reloading and the usually larger ammunition capacities. For a given calibre, an automatic tends to be lighter and more compact than the equivalent revolver. You may be adept at quick wheel-gun reloads on the range, but under the stress of real combat it is better to keep dexterous actions as simple as possible.

Rounds such as the much hyped .40 S&W, .375 SIG and 10mm Auto are not recommended. These are all medium-calibre rounds, most loads trying to emulate the performance of the .357/125gr. Essentially just faster 9mm Luger. Unsurprisingly, performance is inferior to the .45. Logistically, ammunition in these chamberings may be difficult to find outside the US.

If a big deep hole is better, why the .45 ACP and not rounds such as the .44 Magnum or .50 AE you may ask? The answer is that we need control as well as power. For many shooters a quick follow-up shot with a .44 Magnum or similar may be difficult. No round can be guaranteed to always neutralize a threat first hit, or to always hit, for that matter. Another reason for using the .45 ACP is that most of the loads that exceed the .45 ACP in power are primarily revolver loads. For many reasons, not least its mass and bulk, the Desert Eagle is not recommended as a defence gun. The .45 Long Colt and .44 Special are more manageable, but usually found in revolvers, so the .45 ACP remains the best choice.
Both "Attack, Avoid, Survive" and "Survival Weapons" have advice on the use of firearms.