Today I am going to introduce what I call my "soft-core bag". This is not a "bug-out bag", although it could be included in the contents of one.

I have a number of bags and rucksacs, and there are certain items that I would invariably want in one if I was carrying it.
Stocking each pack with necessary items is not economically practical, however.
Perhaps, I thought, I should have a box containing the necessary items and potential alternatives. This was part of the solution, but I quickly realized many items could be packed together so they could easily be grabbed in one go.

I drew on the lists given in the previous post to select the current loadout.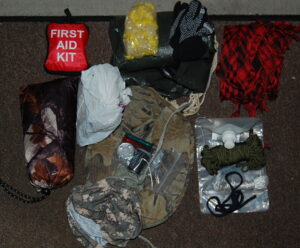 Top left: A small first aid kit. This supplements the items I carry in my skin-level EDC.
Directly below the first aid kit in a dark brown camouflage bag is a rain poncho.
The white plastic bag beside the poncho contains a toilet roll. This has subsequently been replaced with a clear ziploc bag.
Middle top can be seen a bag of boiled sweets and a pair of warm gloves. These are sitting on top of a dark green all-weather (AW) blanket. You can see some of the shoelaces that are tied to the grommets of this. I intend to add a pair of silver space blankets too.
Top right, a red and black shemagh. This is a spare/additional shemagh, since I am often wearing one these days.
Bottom centre is my Advantage-camouflaged boonie hat.
Sitting on the boonie hat is a plastic bag carrying a small fire kit. This has two butane lighters, two nightlights, a 35mm film container filled with Vaseline-soaked cotton wool and a Fresnel lens.
Below the fire kit and to the left is an ACU-patterned headover which can serve various roles, including as warm headgear.
Bottom right is a one-litre Playtpus waterbottle. Sitting on it are a shoelace, hank of general purpose string, hank of green paracord and some braided fishing line wrapped around a piece of plastic (yoghurt carton) or a small tube.
Not shown: two supermarket carrier bags. I wear photochromic spectacles. If you do not, a pair of cheap sunglasses may be a prudent addition.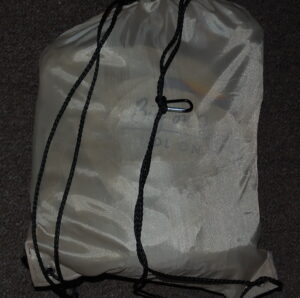 The whole collection packs into a draw-cord bag, as shown. Note snap-link added to one carrying cord.
This bag is lined with another plastic bag to provide better water resistance. Everything except the AW blanket, space blankets, shopping bags, poncho and water-bottle fit inside the waterproof liner bag.
The headover is folded into a pouch and used to contain some of the smaller items. This pouch, in turn, is placed inside the boonie hat. The folded shemagh is place with this.
Most of the pack contents are soft and crushable so no great genius at packing is really needed. Put the blanket in first and add the plastic bag of other contents. Put your water-bottle away from your back and ensure your poncho rides near the top of your bag.

Packed, but without water, the soft-core bag weighs about 1.3 kg. The volume of water I will carry and which water-bottle I will carry will vary with climate and anticipated conditions.

The soft-core pack is easily stuffed into a larger bag, immediately adding a collection of very useful items. On its own, it is a good bag to have for trips where you do not want to be bothered by a bag. It is light and low-density, and makes a pretty good pillow.

A quick glance inside the first aid kit. Items in this kit are consumed in preference to those in the skin-level EDC. Vaseline is good for chapped lips and other ailments.

The soft-core bag probably has more cordage than it needs, but I had some hanks already made up. This is a nice example of paracord carried using hojo-jitsu configuration.